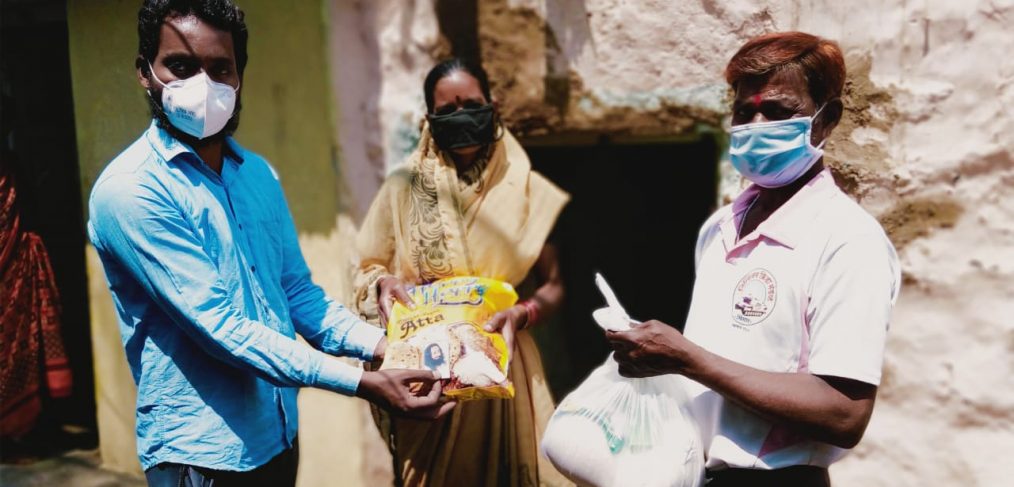 JAMMU, May 10: Distribution of ration and essential items among the needy persons continued here today.
DIGP (Ops) North Jammu CRPF PC Jha distributed packets of dry ration to needy and poor families in Channi Himmat and Dilli areas. The distribution programme was organized in association with V2 Care HSW Foundation. Neeraj, D/C Staff Officer, Padmaja Jha, General Secretary of the Foundation, Sham and staff of CRPF were present on the occasion.
"Nar Seva-Narayan Seva" Humanitarian project was accomplished in the areas of Muthi and Roop Nagar in which 110 migrant labour families were the beneficiaries. The programme was organized by the BJP activists, Daughters of Panun Kashmir, Inspiration Foundation and Cradle 2 Crayons School jointly. Present on the occasion were Ashwani Kumar Chrungoo, Vijay Raina, Sarpanch, Chowgam-Kulgam, Virender Raina, President, Panun Kashmir, Rakesh Kaul, Councillor, Mattan MC, PN Tikoo, Anila Tikoo, Coordinator and Principal of the school respectively, Vimla Chrungoo, Secretary, DoPK, Sanjay Bhat, Sarpanch, Rajpura-Pulwama, senior activist Sandeep Kisroo, Vishal Fotedar, Ravi Raina, Vinod Chrungoo, Deepansh Kisroo and Sunita Sahu.
Ankush Raina JKPYC Secretary distributed ration to needy people in RS Pura area of District Jammu.
Vishal Jotshi Secretary BJP Kashmir Displaced District Secretary along Booth President of Kheer Bhawani Mandal Karuna Jotshi distributed ration and other essential items among 25 poor and needy families in Udheywalla and Rama Krishna areas under the supervision of President BJP KDD TN Bhat and General Secretary Vinod Pandita. Pavan Jotshi, Vinod Bhat Treasurer BJP KDD, Vivek Jotshi social worker and Dolly Kachroo were active volunteers of distribution team.
A religious organization in Reasi District, Shri Durga Natak Mandli is feeding patients and their attendants free of cost in District Hospital Reasi. Sanjeev Khajuria President of the Organization, Abhinav Pandora Volunteer of the Shri Durga Natak Mandli and many others are part of this distribution programme.
A team of activists led by BJP Working Committee Member UT J&K Arun Sharma visited Chilladanda, Kumi, Badla Brahmana, Keni, Nagrota, Kamila, Moutlian and Barhakheter and distributed ration and essential items among the needy persons. Sharma was accompanied by Om Parkash, Sushil Kumar, Sewa Singh, Sub Romesh Chander and Kajal Sharma. Sharma appealed to the people to cooperate with the Corona warriors. People also projected their various demands to which Sharma assured redressal after discussing with the concerned authorities.
Originally Published By – Daily Excelsior