We believe that one of the keys to holistic, sustainable growth and nation building is the development of the youth. It is the youth who can give momentum to positive and equitable development of the country and execute it with energy and enthusiasm. IAHV in collaboration with Sri Sri Rural Development Program provides industry-relevant skill training to Indian youth to empower them with a satisfying source of livelihood.
1,50,000
YOUTH TRAINED UNDER  PMKVY
16
SPECIAL CENTERS IN JAIL
"This is the right time for the youth of the world to come together and decide what type of world they want to create. Youth should channelize their abundant energy, talent, creativity as well as should care and concern for the society"
– Gurudev Sri Sri Ravi Shankar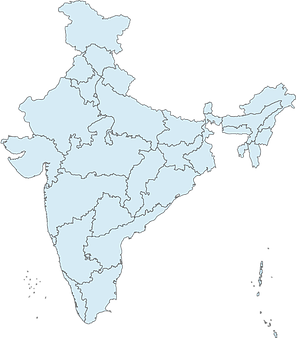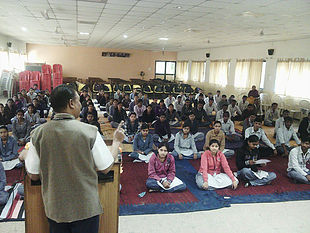 Reached out to 1,25,850 students in 70 cities across 20 states in India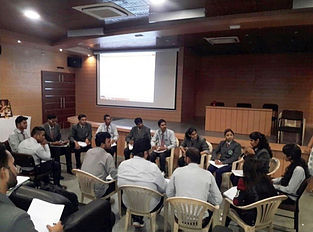 Educational Training conducted in 327 colleges in 70 cities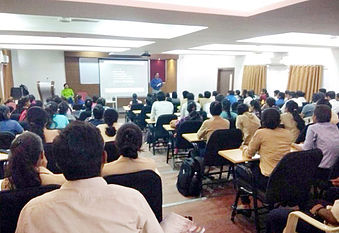 34885 students placed in various companies
Skills Training – Electrical, Schneider
IAHV along with its partner trust Sri Sri Rural Development Program (SSRDP) started skills training in the electrical trade in association with Schneider Electric Foundation in 2012.
The training aims at providing employment opportunities to the under privileged youth especially in the rural areas and to assist them in self and wage employment efforts in the electrical field.
The training component comprises of Life Skills. Soft skills (Youth Leadership Training Program), Entrepreneurship and Yoga are also part of their curriculum
Presently, there are 15 training centres across India which have imparted training to 1154 students.
Sri Sri Industrial School, Nagapattinam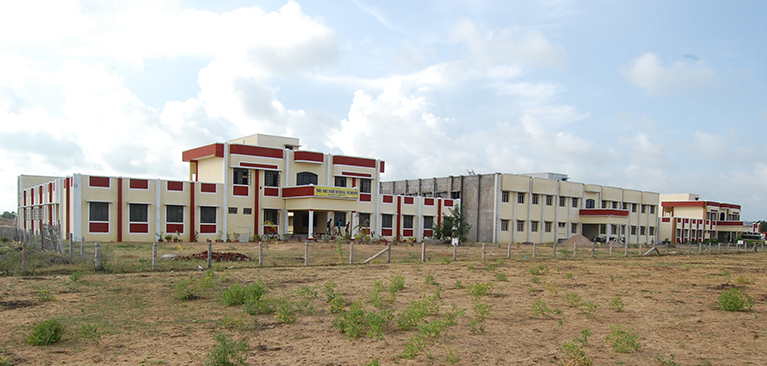 Sri Sri Industrial School provides vocational training in the areas of plumbing, electrical works, tailoring, welding and computers. In the Year 2011, efforts were made in association with Shriram Foundation & IGNOU (Indira Gandhi National Open University) for study centers to be extended to the premises of Sri Sri Industrial School, Anakoil, Nagapattinam, providing distance education in graduate programs.
Youth Leadership Training Program, YLTP
IAHV empowers young people to move from being influenced by their environment, to having an influence on their environment. It works to ensure that tomorrow's voices for peace and unity are stronger than those of violence and self-centeredness.
Our dynamic Youth Leadership Training Program (YLTP) offers training to youth in self-development and leadership skills. This Program helps bring clarity to the mind, reduce stress, improves self-confidence, increases capacity & empowers them to become agents of social change.
a CSR initiative with Intel
Tailoring training for livelihood
International Association for Human Values (IAHV) in collaboration with Intel initiated technical & life skills training program for women living in the slums of Chennai to bring a holistic and sustainable transformation in the lives of families who lost their homes and livelihood during the Chennai floods of 2015.
Skill Development Center - 582 Beneficiaries
Partnered with government body – Tamilnadu Slum Clearance Board.

Programs conducted within slum resettlements across 4 locations.

582 people have benefitted from the program and were provided with free machines & basic kit for self employment.


40% of graduates have started to earn daily income for their families and have become a contributing member to the financial needs.

25% the trainees are the only bread winners for the family, and are now able to support their financial needs independently.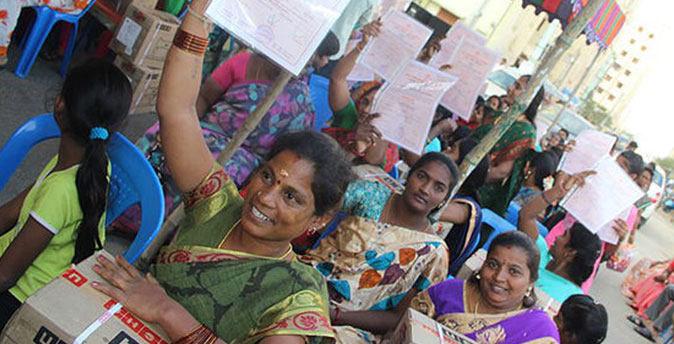 Testimonial
"I used to take money  from my husband for managing household expenses. Then I learnt about the Art of Living's skills training program. After attending this program, my skills have become more sharp, refined. I have learnt to stitch pants, frocks, blouses, shirts and more. And, with the new sewing machine given to me, I run my own home business and have started to earn supplemental income to support my families financial needs."
Our Approach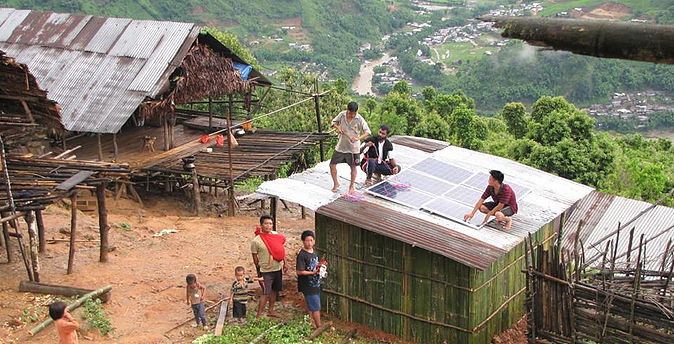 Youth engagement in social initiatives
These programs are also the foundation of many of our other development activities, as once youth are empowered, they have often stepped forward to become volunteers in their own communities, improving their lives and society at large.
It is a proactive model of progressive nation building that has already inspired millions of youth across India and over 155 countries worldwide.
Skills training for misguided youth
IAHV, following the vision of Gurudev Sri Sri Ravi Shankar, conducts skills training program to rehabilitate surrendered youth.
127 surrendered youth attended the three-month training held at the Pune Ashram of the Art of Living. 80 of them were helped to get permanent jobs across Maharashtra. This was held in association with NSDC.