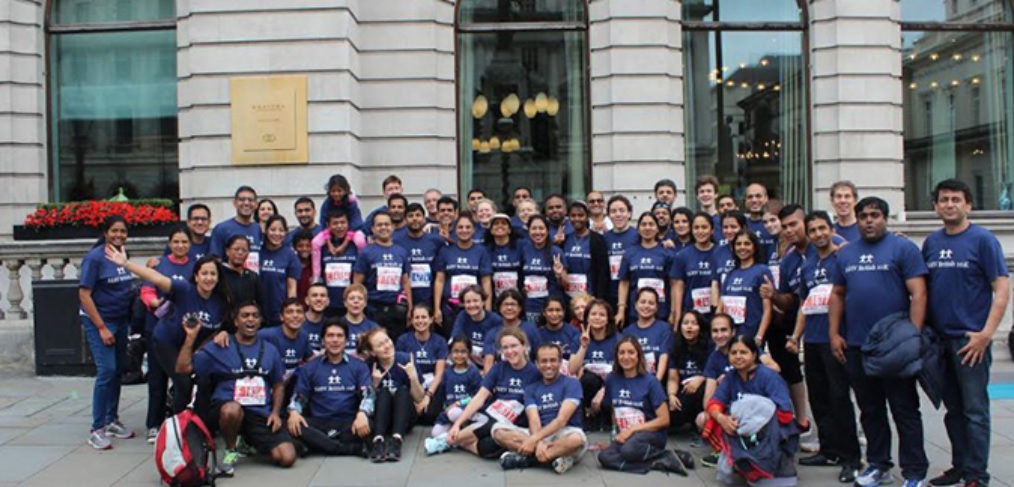 BY RAHUL LAUD: More than 150 runners including many British Indians have taken part in the Vitality British 10k London Run in aid of the International Association for Human Values (IAHV).
The iconic route starting on Piccadilly outside The Cavalry & Guards Club on Hyde Park corner, saw runners make their way past huge crowds and London landmarks including the London Eye, Big Ben and the Houses of Parliament and Trafalgar Square before finishing at Whitehall.
The International Association for Human Values (IAHV) is a worldwide organisation with a mission to make the world a better place by fostering globally the values that unite us as a human community. IAHV has special consultative status with the UN Economic and Social Council (ECOSOC).
IAHV supporters were drawn from diverse nationalities with a strong contingent of British Indians all dedicated to helping underprivileged children in India including the IAHV's Gift a Smile and Read Library projects.
Ashish Monga leader of the IAHV UK's Read a Book project said:
"By providing a library of books for schools, the aim of this IAHV project, is to give poor children access to quality books, to promote their reading and learning and to expand their knowledge. As part of promoting a holistic, value based education, IAHV is partnering with the Read Library Project which has already provided more than 25 libraries for schools, benefiting nearly 3500 children. The Read Library Project will be delivering and monitoring the libraries which will be funded by IAHV. Each library costs £250 each."
Sue Hindle, Director, Trustee and Member of the IAHV Board UK said:
"We were all really impressed by the great work that Ashish and his team have been doing to set up libraries in schools in India. This project to establish school libraries and to promote reading for school children is an excellent fit with the work IAHV is already doing to provide schooling in India. We are very pleased to be working with the Read Library Project to set up libraries and to promote reading in many more schools."
Gift a Smile spokesperson, Nimisha Parikh, said: ''Gift a Smile provides free, holistic, value based education to underprivileged children in India and elsewhere.The Gift a Smile programme was started a few years ago to build schools and provide education for children in the underprivileged rural, tribal and slum areas of India. We currently support over 400 schools in 20 states across India, providing free education to over 40,000 students. ''
Nimisha added, ''The Gift a Smile Project, funds an innovative school service programme for children and their communities in India. It has laid the foundation and created structures that facilitate free, value-based, quality education without compromising on the dignity of children from underprivileged areas. As part of the project, children are given free education, medical care, free transport, stationary, books, nutritious meals, and school uniforms.''
Deepa Shukla, who is a IAHV volunteer and lead organiser of the 10k run said: ''The IAHV-UK British 10K, is a project that is very close to my heart. Having led the project for the last two years, I have really had the opportunity to understand the core values of IAHV. It has been a privilege to support the IAHV initiatives and through the British-10K we have endeavoured as a team to increase awareness of IAHV and the outcomes of our projects. My message to everyone is the IAHV-UK British 10K Run is a fun yet fantastic platform through which we can all contribute to achieving a stress-free, violence-free society. ''
IAHV, International Association of Human Values is a non-profit organisation founded by Sri Sri Ravi Shankar. It has a global presence and holds special consultative status with the United Nations Economic and Social Council (ECOSOC). With an ultimate mission of creating a peaceful society that is stress-free and violence-free their initiatives reach out to a wide community. Through their projects they strive to empower individuals through education, self-development and outreach programmes.
SOURCE COURTESY : http://indiagbnews.com/