ABOUT US
The International Association for Human Values (IAHV), a partner organization of the Art of Living was founded by Gurudev Sri Sri Ravi Shankar, to foster a deeper understanding of the values that unite us as a human community around the globe.
IAHV is an international volunteer-based NGO in special consultative status with the Economic and Social Council (ECOSOC) of the United Nations which along with the Art of living has touched the lives of people in 155 countries around the world. An international humanitarian NGO, IAHV implements social development programs aimed at increasing global equity, sustainable development initiatives, and social justice for all human beings on the planet. 
IAHV also aims to propagate universal human values in all spheres of society, specifically economic, political, industrial, and social arenas. Though initially maintaining a focus on the provision of primary school education to poor children, IAHV quickly expanded its vision and added substantial breadth and depth to its project portfolio. 
Over the last decade, IAHV has applied an integrated social development approach in order to address the needs of poor rural communities. Through targeted interventions in areas such as education, tribal welfare, vocational training, microfinance, leadership training, and SME development, among many others, IAHV has adopted and helped transform over 30,000 villages in India. 
The development models of IAHV have been acclaimed by various stakeholders including international organizations, governments, donors, and civil society organizations. IAHV sits on the Economic and Social Council of the United Nations and has often been asked to contribute towards peace and conflict resolution initiatives.
Our Mission
IAHV focuses on empowering people and communities, with inclusive and sustainable development interventions, fostering universal human values. Our programs enhance the clarity of mind, shift attitudes and behaviors, and develop leaders and communities that are resilient, responsible, and inspired. 
We collaborate with governments, educational institutions, other NGOs, corporations, businesses, and individuals, to develop and promote programs of community development, youth leadership training, disaster response, and personal development. 
Our Founder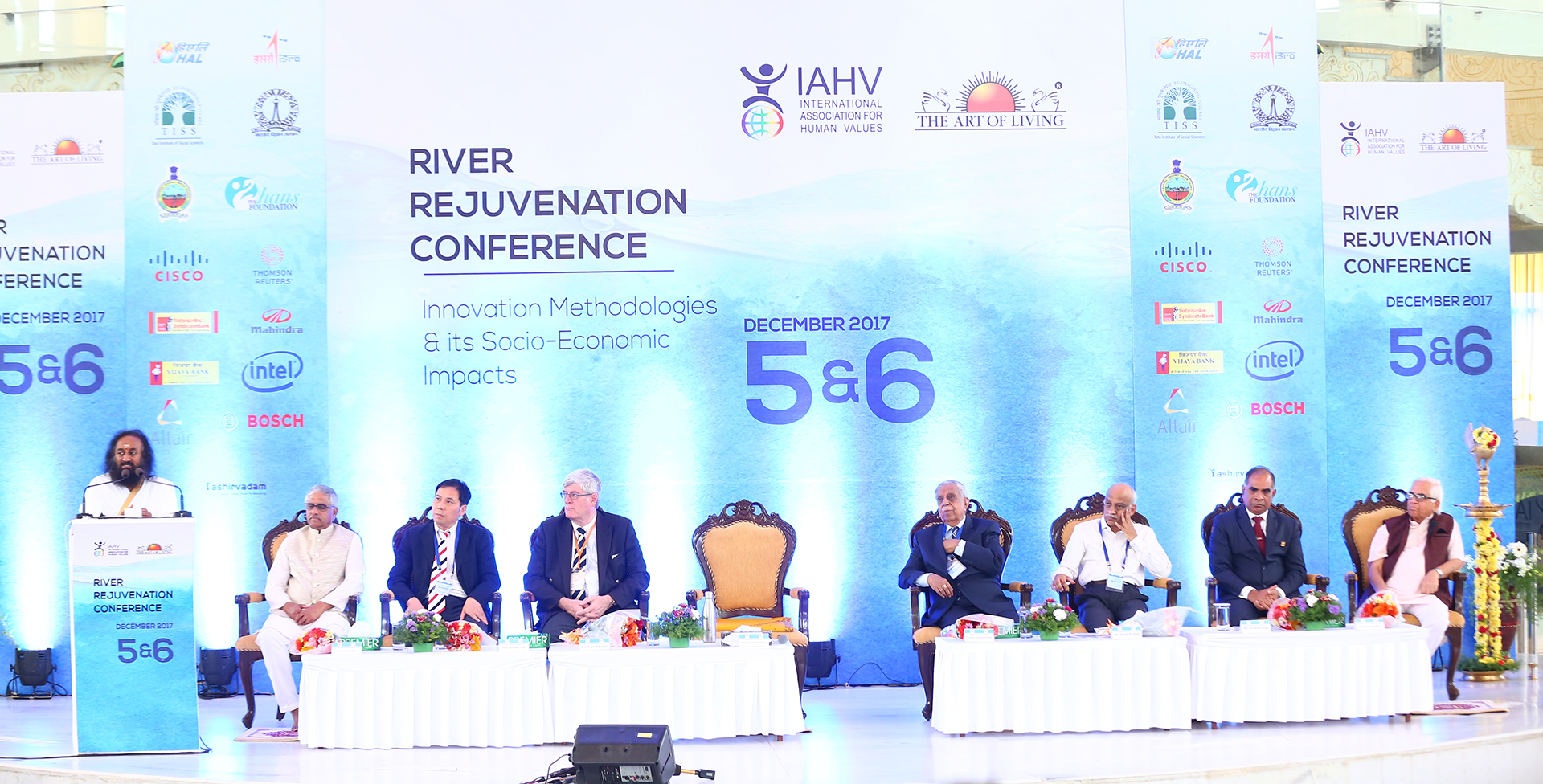 Gurudev Sri Sri Ravi Shankar
Gurudev Sri Sri Ravi Shankar is an international humanitarian leader and a spiritual master who is the global rallying voice of this generation's collective call for peace. 
Named one of the seven most powerful people in India, by Forbes, his world-renowned meditation techniques helped end the 50-year conflict in Colombia. He has been credited in bringing opposing parties together to facilitate meditation and peace talks in Iraq, Cote d'Ivoire and India. 
Founder of the Art of Living Foundation and International Association for Human Values, Sri Sri is leading the way toward peace and tolerance through meditation and humanitarian efforts. Over 35 years, his programs and initiatives have touched the lives of over 370 million people in over 155 countries. 
Sudarshan Kriya, the meditation technique introduced by Sri Sri is backed by research and implemented in schools, corporations, prisons, refugee camps, and retreat centers around the world. As a spiritual teacher, he has rekindled the traditions of yoga and meditation that have helped millions of people achieve personal and social transformation by relieving stress and discovering inner peace in daily life. 
Sri Sri's mission is to show the world that through achieving inner peace, we will be able to see our human interconnectedness and become a one-world family. 
President
Darshak Hathi comes with over three decades of experience across international relations, business, finance, executive training, community outreach, social & development sectors.
As the International Director for Art of Living Foundation since 1999, Mr. Hathi has traveled extensively across the world to conduct corporate & government executive training programs to address various forums. During this period, he also initiated several development projects globally.
Mr. Hathi is a Trustee of Sri Sri Ayurveda Trust. He is also a motivational speaker, mentor & master trainer. His international cross-disciplinary work has helped bring multi-faceted insights on global development issues
Board of Directors
Lt. Gen
Ashwani Kumar Chairman
Lt Gen Ashwani Kumar, PVSM, AVSM, VSM, ADC is the first Army Air Defence Officer ever to command a Corps and to have become a Principal Staff Officer at IHQ of MoD (Army). He commanded 127 Light Air Defence Regiment (Composite), including the period of OP PARAKRAM. He has the distinction of commanding 51 Inf Bde in Western Theatre and was the Dy GOC of 25 Inf Div on Line of Control in Northern Command, GOC of 26 Inf Division and GOC, 10 Corps.
Mr. Bakul Jain is an industrialist with over 39 years of experience. He is presently the Managing Director of DCW Limited. He is also an independent Director of one of India's largest tyre manufacturing company viz. J. K. Tyre. He is a Member of the Managing Committee of the Western India Automobile Association and the Bombay Hospital Trust. He is also the Honorary Consul of the Republic of Guinea, for the State of Maharashtra.
Kavita Khanna, a graduate of the London School of Economics and a Barrister from Lincoln's Inn. She has done extensive public policy work. She worked with PM Vajpayee's office for three years on the issue of labor law reform, she was a partner in the legal firm "Economic Laws Practice", and headed HRD Committees for ASSOCHAM, CII and Indian Merchants Chamber. She is also the wife of the late hugely popular Indian cinema actor Vinod Khanna.
Bharat Vig has been associated with the Art of Living since the year 1992. Served as Gurudev's secretary for 8 years. He is well traveled and teaches Art of Living programs in India and around the globe.
He has great experience and expertise in representing the organization at various forums and political platforms. He has effectively led organizing teams for big festivals like the 'Brahmanaad' & held an important office in organizing the World Cultural Festival in Delhi. Bharat Vig also successfully runs his own international BPO business.
Romila Sen was born in Kolkata India. An honors graduate in English literature, she has been on the board of IAHV since 2010. She is a director of the International Women's Conference held biannually at the Art of Living International Centre. She also heads the heritage furniture division of Madhurya - a store that supports ancient Indian arts, crafts, and weaves.
Ramesh Raman holds a postgraduate degree in International Economics from Mumbai University. He started his corporate career with the Tata Group in International Business and then set up a consultancy in Leather and allied business. He is associated with The Art of Living since 2000 in various capacities and is currently spearheading the CSR initiatives of IAHV.
Write To Us