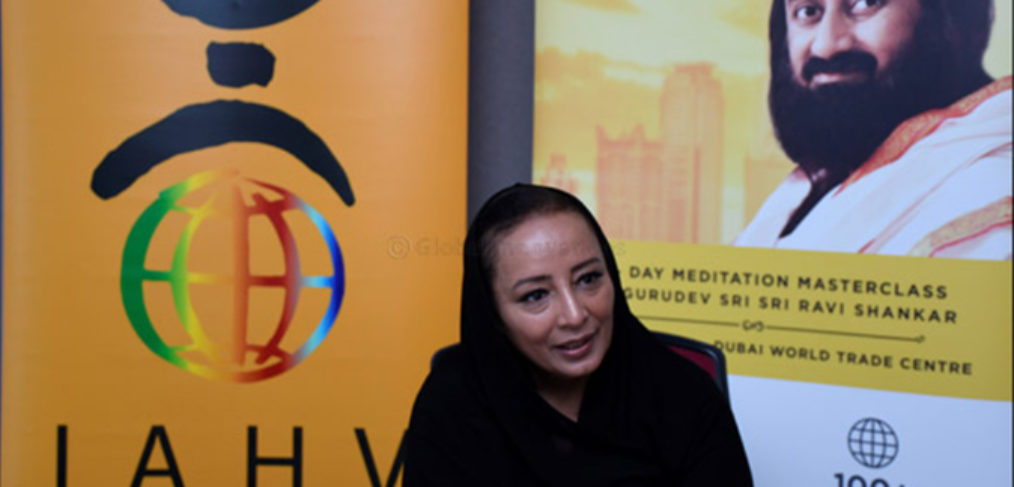 Emirati Woman spreading peace and happiness amongst war victims and refugees of the region
Over 14,000 war refugees living in Jordan and Lebanon have found new lease to happiness and hope through recently-concluded training programs conducting by the International Association for Human Values (IAHV) and its sister organization The Art of Living. The Project which started in 2016 aims to reach out to another 4000 vulnerable, at-risk and high potential Iraqi and Syrian refugees by mid of next year, accomplishing the task of providing relief to a almost 18,000 people on completion.
Focused towards war victims, youth, women and children, the tailor-made programs comprised numerous workshops in the region to help people cope with trauma of war, loss of lives and possessions and of being
displaced.
Besides children and youth, over 2000 parents were also trained for Healing, Resilience and Empowerment Program in Jordan and Lebanon so that they are able to provide support to their children. Moreover, almost 400 teachers and social workers were trained for Personal Care.
The IAHV and The Art of Living (AOL) was founded by humanitarian and spiritual leader Gurudev Sri Sri Ravi Shankar, who has been globally active in spreading the message of peace and humanity. Gurudev will be visiting UAE this week to conduct a big Yoga and Meditation event by the name Illuminate Peace in Fujairah on 15th November and a two-day Meditation Master class, 'Unveiling Infinity' on 16th and 17th November in Dubai.
Talking about the peace and rehabilitation efforts and her own journey from being a successful investment banker managing money to managing traumatized minds, Ms Mawahib al Shaibani, CEO of Art of Living, Gulf and Middle East said, "I am proud of my Emirati roots and the values we have imbibed as UAE nationals.Our country is home to over 176 different ationalities who live together peacefully and harmoniously and that's the message I want to spread to the world.
"Meeting Gurudev Sri Sri Ravi Shankar, was a big turning point in my life. Inspired by his mission to serve humanity, I decided to take a sabbatical to travel across Iraq, teaching the Art of Living Happiness program and what I saw there changed my life irrevocably. Since then I have been working to provide trauma relief to refugees and victims of war in Syria and Iraq spreading the message of peace and humanity.
It makes me really happy that Gurudev will soon be visiting UAE to conduct a massive peace program through the masterclass. It's a rare opportunity for the residents of this country to benefit from his presence and find the real purpose of their lives. I strongly suggest everyone to attend his sessions to re-discover themselves and find inner peace and happiness in true sense", added Ms Shabani.
Implementing its popular 5H Program (Health, Hygiene, Homes, Human Values, Harmony in Diversity) in Iraq that empowers communities to rebuild and take responsibility for their own development, the AOL has made a marked difference to the lives of people. In Iraq alone, their Rehabilitation program provided relief to over 10,000 people, training 4000 in tailoring and computers and over 300 in hospitality and finance.
IAHV programs are designed to address specific problems faced by the affected groups in Lebanon and Jordan. These are tailor-made to suit the situation and the sensibilities of the region and culture. Selected youth in the region are specially trained as Youth Peace Ambassadors who are responsible for designing and implementing awareness and peace building projects to prevent and reduce violence in their families, schools and communities. So far, 60 Youth Peace Ambassadors have been trained.
As a long term plan, IAHV will be conducting regular follow-up sessions for Personal Care graduates, which will prepare them to take the Training of Trainers (TOT), another bold step in the project that will ensure multiplication and sustainability across the most vulnerable schools and communities in Jordan.
SOURCE COURTESY : http://GoDubai.com/