Woman Who Inspired 68 Militants To Return To The Mainstream

New Delhi
Manipur is one of those states in India which has borne the brunt of terrorism the most since independence. Counted among the most beautiful places in the world, Manipur has never been able to manifest its beauty because of this venomous threat. The Art of Living foundation under the premier leadership of Sri Sri Ravi Shankar has been initiating various peace projects in different parts of India and the world.
Be it Naxalism in Chhattisgarh or talks with Separatists in Jammu and Kashmir, Sri Sri's organization has been quite successful in bringing back misguided youths to the mainstream. The surrendering of 68 militants in Manipur is the latest achievement of the organization.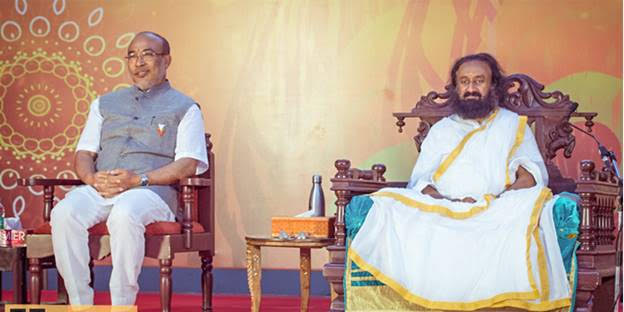 This year, at dawn of Independence Day, 68 militants including four women surrendered their arms in front of Manipur Chief Minister N Biren Singh.
At an event organized by the Manipur government at the parade ground of 1st Bn Manipur Rifles, 68 militants decided to join the mainstream, leaving behind the path of terrorism.
Chief Minister Biren Singh lauded the efforts of the Art of Living teachers and also praised its founder Sri Sri Ravi Shankar for his organization's tireless effort in bringing back peace in Manipur.
Sri Sri Ravishankar, lovingly called 'Guruji' by all his devotees, announced the news during the evening Satsang at Art of Living's International Ashram in Bengaluru. "One of our senior teacher Deepa Dave who is famous within the organization for her commitment and strong will has managed to bring back 68 militants of Manipur to the mainstream", Sri Sri said. "I had a telephonic conversation with Manipur Chief Minister N Biren Singh, who congratulated the Art of Living and thanked the organization for its peace movement", he added.
Deepa Dave, one of the senior teachers of the Art of Living Foundation, has been working in the state for more than a decade now. She, along with other local teachers in Manipur, has been carrying the message of peace to various militant organizations and encouraged many of them to return to the mainstream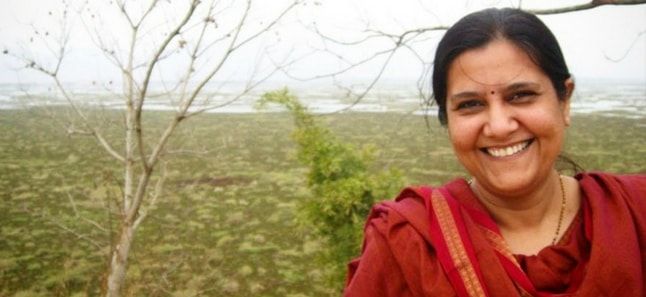 Deepa Dave speaks exclusively to Linking Nation's Sneha Kapoor where she explained her entire journey and how she made this project a great success:
Linking Nation: Mam, tell us something about yourself? How did you manage to bring these militants to the mainstream?
Deepa Dave: Basically, I am a travelling teacher of the Art of Living. I travel to different places to teach these courses and Manipur was also one of my destinations. Here, I used to take courses in jails, university and rural areas. Whenever I used to conduct a course in a jail, I would often come across leaders of different militant group. So, we used to hold talks with them and listen to their problems. When Guruji (Sri Sri Ravishankar) came to Manipur in 2004, leaders of different terror organizations held a meeting with him. So this is how the whole process started.
Linking Nation: Was it difficult for you to set the base of the organization in Manipur?
Deepa Dave: At the beginning, there were only a few people who knew about the Art of Living and the work we do. People used to tell us that there is no future of this organization in Manipur. But Guruji was always very hopeful and believed that the mindset of the people will change. Looking at him ,we also felt motivated and understood the fact that it is only the Art of Living's policy of Love that can bring back peace in Manipur.
Linking Nation: Was it a big challenge for you to work in a state like Manipur?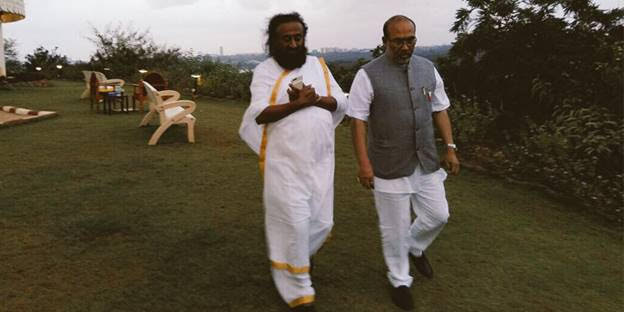 Deepa Dave: Yes, it was quite challenging and we did face some problems in convincing people in the beginning as they used to doubt Guruji, our organization, its working, our intentions etc.
But we never gave any explanation to anybody rather concentrated on our works. Slowly and steadily local people became AOL teachers and we started conducting courses in different places which included jails, university etc. We organized many courses in jails which changed the mindset of the inmates.
Linking Nation: Sri Sri Ravishankar also played a key role?
Deepa Dave: I still remember when Guruji came first time to Manipur in 2004. He said that those people who are not in the mainstream have chosen a tougher life and somewhere in the core of their ideology there is a concern for their society and we should channelize their energy towards a constructive goal. These thoughts of Guruji motivated us. His inspiration, guidance, and support always gave us the energy to move forward.
There were times when we used to feel low; It was Guruji's teachings that helped us to move in the right direction. Since we have seen so many impossible things happening under his supervision, we knew that these problems are temporary and will get resolved.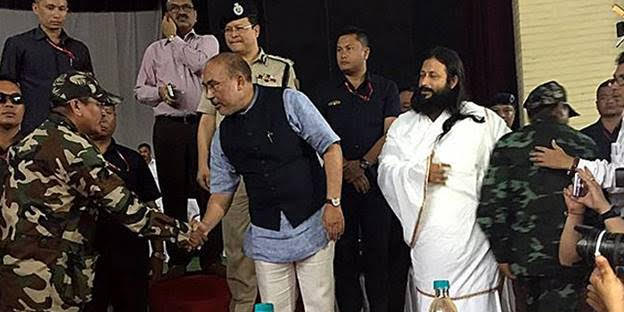 Linking Nation: How did these militant groups come in contact with Art of Living?
Deepa Dave: You know it happened gradually, we held several rounds of meeting with them, we used to conduct courses at regular intervals and finally a meeting with Guruji. I will share one incident; it was in Guwahati where went to meet a militant group leader in prison. Guruji held a detailed talk with him and inspired him to leave the path of violence. That militant felt a sense of belonging with our master and the solace he offered.
Earlier, people hardly recognized Guruji and our organization. But this time when he came to Manipur in 2016, people called him by his name as H.H. Shri Shri Ravishankar which reflected his popularity among the masses.
Linking Nation: Tell us something about the youths in Manipur, how they responded to AOL's programs?
Deepa Dave: In Art of Living, we have programs specially designed for youths like YES, YES+, Youth leadership programs etc. Many youths from Manipur have gone through these courses and later visited our Bangalore Ashram as well ,where we have given them both skill training and employment.
Linking Nation: How did the perception of people changed about Art of Living in Manipur?
Deepa Dave: Art of Living has been working in Manipur for quite some time now. With so many projects happening all around the state, people have started realizing that this organization is really a non-profit one. Earlier, people used to tell us that this state didn't need any organization to work for them and wanted us to leave. They had a very negative perception about the Art of Living. But later things changed with time.
Linking Nation: With so many difficulties, didn't you felt exhausted at some point of time?
Deepa Dave: It would be unfair to say 'no', after all it's a human mind and body. Sometimes we used to feel frustrated about why were they doubting our intentions so much. But again it was our master who guided us. He always leads us by example. I always used to think that "how Guruji accepts everyone around him and how he works round –the- clock without getting exhausted". And frankly speaking after a point of time everything started happening very smoothly. And I believe patience is the key when you take up a work of this kind.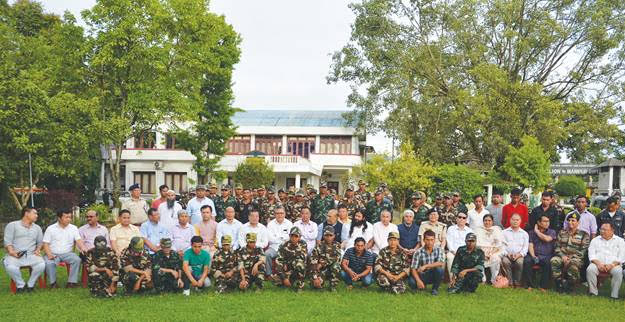 Linking Nation: Lastly, please tell us your future plans are for the state of Manipur.
Deepa Dave: Now, the need of the hour is to bring back peace in Manipur and I don't mind to become part of that change. It's not only me who is working in the Northeast .There are a lot of Art of Living teachers who are working in this area. One of our senior teacher Sameer Jolly is working in Karbialong and Burmah, Deepak Sharma another teacher has been travelling all over the Northeast , conducting many rural development programs. So, there are lots of work happening.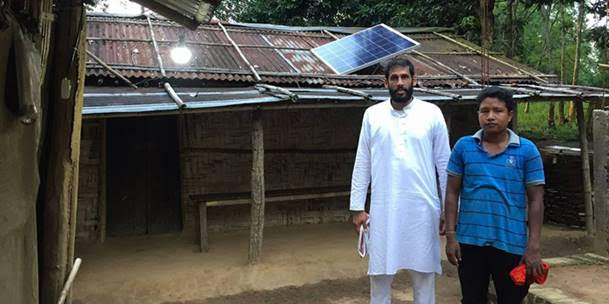 Those who have joined the mainstream belongs to 11 most dreaded terror outfits, which includes six factions of Kangleipak Communist Party (KCP), two factions of People's Revolutionary Party of Kangleipak (PREPAK), People's Liberation Army (PLA), United National Liberation Front (UNLF) and Kanglei Yawoi Kanna Lup(KYKL).
Biren Singh, who took over the charge of CM this year had promised that the new government will provide all the necessary assistance to the terrorists who join the mainstream.
The Art of Living has been working reluctantly in Manipur over the last 15 years. The organization had been conducting its life transforming courses for all sections of the society. It has also conducted several programs in prisons where many arrested cadres of outlawed outfits not only got an experience of inner peace, but also came in touch with Sri Sri Ravishankar's vision for a peaceful and prosperous Manipur.
Courtesy: Linking Nation