ODF Projects in Aurangabad District
The Art of Living organization under the leadership of Dr. Purushottam Wayal, has enabled three villages located in Aurangabad District of Maharashtra to become completely open defecation free, within the past 4 months. The organization with its efforts last year has already aided nine villages in the state to become Open Defecation Free. In association with Good Year's CSR initiative, the organization has swiftly over a short period of time enabled these villages to move towards better lifestyle, quality of living and better hygiene.
The villages of Narayanpur, Dhanegaon, Vitawa in Aurangabad District have been benefitted by this wonderful gesture. Over three hundred toilets have been constructed in these villages, one for each household. In the previous year, the excellent work in making nine villages Open Defecation Free, was lauded and received the Good Year the National CSR Impact Award.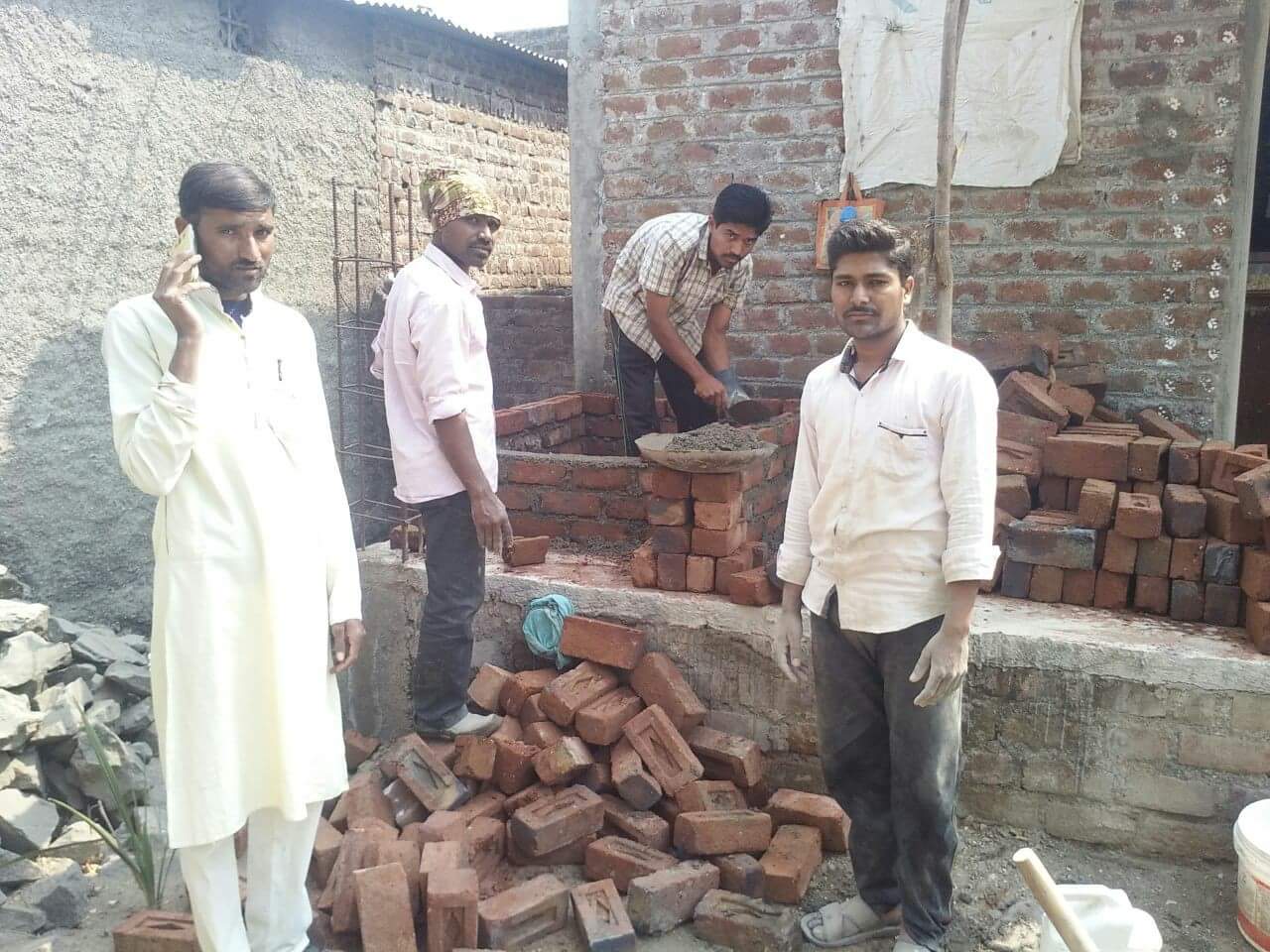 The focus is on all-round development and inclusive prosperity. The Art of Living conducted various other initiatives in these villages, including stress relief workshop, meditation programs, workshops on improving communication skills and training youth to realise their potential. Bal Chetna Shibirs for children and women welfare activities were also conducted, thus, reaching out to every strata of society and making an impact.
"Having a toilet is for the rich, is what I used to think. I am a labourer, constructing a toilet is beyond our ability." shares Ramesh Chagan Bansode from Dhanegaon, who has the responsibility of feeding a family of 10. "I feel really grateful and indebted to even know and meet people and organization like these, who care for someone like me." He adds, "Changing habits of an entire village, treating everyone as equal, changing the outlook and atmosphere about this crucial aspect of everyday living, will definitely go a long way in helping us health and hygiene."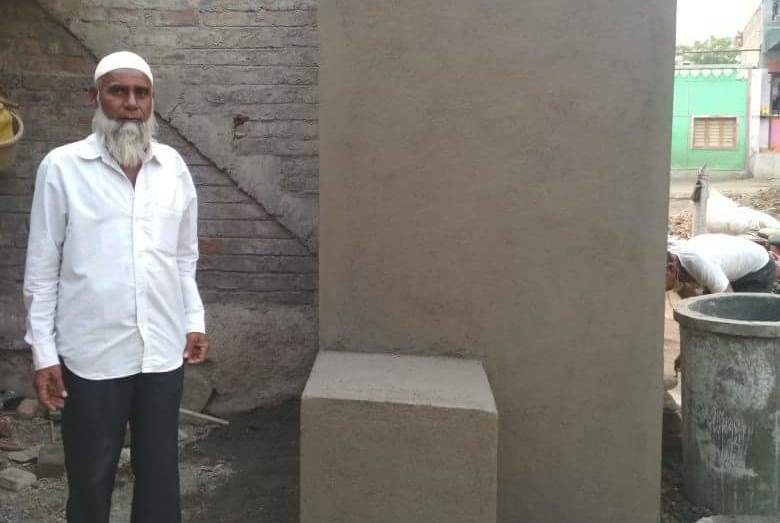 Even in the case of toilet construction it is not just the case of gifting toilets and being done with it, rather it is a very inclusive process. "We reach out to every villager. The need for having toilets and better hygiene is addressed. We discuss the disadvantages of Open Defecation and we convey why it needs to be stopped", says Dr. Wayal. An all-inclusive environment is created, all questions are answered and thus after the awareness is established, we move into the action phase which again is completely based upon villager's involvement.
"Toilet is not a luxury we can afford, so it was sort of intrusive of someone to enquire about it. But I was pleasantly surprised to see, that the volunteers really cared, and were not here just for the sake of getting few questions answered." says Kamlabai Trimbakrao Karale, a homemaker who runs the household of seven.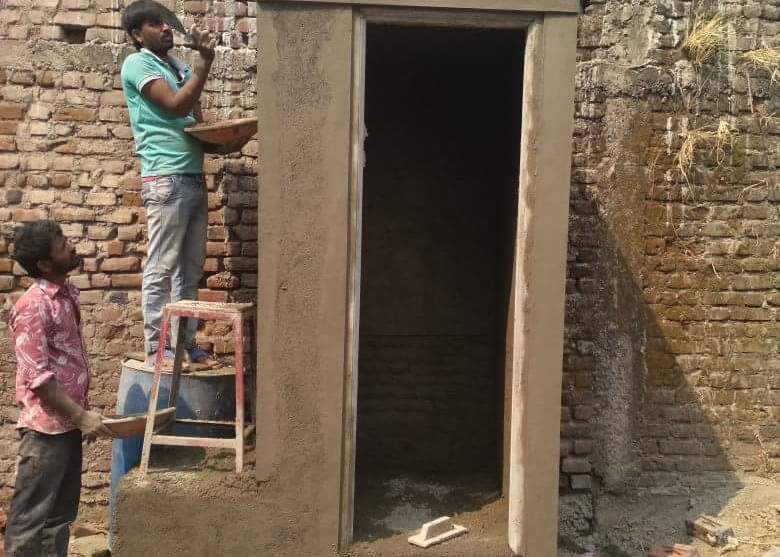 "Every household contributes somewhat monetarily and in terms of labour for the project, thus making it their own effort and initiative. This enables acknowledgement of its importance and its usage making the project reach a whole another level in terms of actual impact on lifestyle and habits. It becomes the people's project." Dr. Wayal adds.
Good Year and IAHV (partner organization of the Art of Living) have monetarily aided 88% of the costs of this project; the rest has been completely through contribution by the villagers themselves.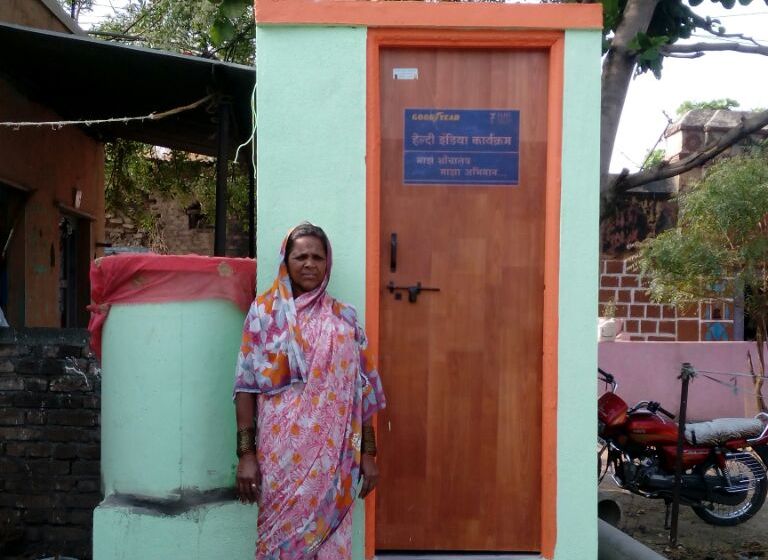 "The toilet is equivalent to a treasure box of jewellery that these volunteers have gifted me with. You cannot imagine the hardships we would have to face, especially in the rainy season or when someone one is sick. I am indebted to the organization." Adds Kamlabai. The impact in her life was such that she advocated for the campaign, enthusiastically undertook the basic construction labour of her toilet herself and became a volunteer for the organization's other activities.
The change in lives of the villagers has been exponential as is evident from the experiences and testimonies shared by the villagers. A resident of Vitawa, Ismail Kadu Sheikh shares, "I had never ever thought of actually constructing a toilet. For an organization like Art of Living, with supposedly a Hindu background to come and approach me just like that, without any discrimination, like any other villager, was heartening. It took away all my apprehension. They came, explained, understood our concern and took us all along." Aged 60, he heads the family of 15 individuals. "The way they helped us, I am extremely thankful and grateful. I promise to never ever defecate in the open again and making the most of this toilet." He participated in all activities enthusiastically and with fervor.
Apart from its campaign against open defecation, the Art of Living has been championing the efforts to improve the lifestyle of the people across the region in lots of other ways too. The Marathwada and Vidharbha belt has seen numerous large impact water conservation initiatives, farmers have been encouraged and taught to practice Zero Budget Natural Farming, the youth have been given a new direction, massive efforts towards freeing people from unhealthy addictions, empowering women, adopting villages to convert them into a model village, has all been under its scope of work.
With steady and dedicated efforts of its volunteers it is slowly but substantially making a huge immeasurable impact on the lives of people, which is appreciable and very laudable.