WINGS Project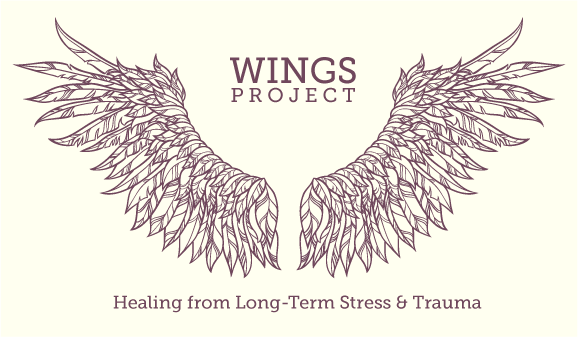 WINGS (Well being, Inner Peace, Non-Violence, Growth & Success) seeks to nurture an empowered self-identity for people affected by addiction, gang and prison culture, homelessness and human trafficking, supporting them to live at their own highest potential, and provide a genuine contribution to society.
About WINGS
The WINGS Project works with already established groups to facilitate further healing for those in need. The key feature of this work is learning the SKY Breathing Meditation – a set of empirically validated practical breathing techniques. The breathwork is taught over a four or five day, part-time course. These techniques can subsequently be used on their own, on a daily basis, to help decrease stress, anxiety, anger, feelings of helplessness and depression. They are eminently practical tools that actively help to manage stress and negative emotions.
SKY has been shown to reduce anxiety, depression and stress, to significantly reduce PTSD, and to increase self-reported optimism and well-being (Brown and Gerbarg, 2005; Kjellgren, Bood, Axelsson, Norlander, & Saatcioglu, 2007; Janakiramaiah, 2000).
Clients learn a process they can use every day in under 30 minutes, and are subsequently able to attend free weekly follow up SKY sessions in locations throughout the USA.
The WINGS Project addresses 'at-risk' demographics including:
Gang Intervention & Anti-Recidivism
Working in gang intervention and with groups that facilitate a re-entry into society for those who have been recently released from prison, as well as for those girls, boys, men and women who seek to leave the gang culture behind them.
Addiction
After the hard work of recovery from addiction has been completed, we offer this work to help facilitate healing along the journey of staying clean & sober. We work in facilities such as half-way houses, offering SKY as a tool helpful in implementing a long-term wellness strategy.
Human Trafficking
Working with groups that rehabilitate both women and men who are victims of the rising crime of slavery and human trafficking. We work alongside these groups to empower these former victims, so that they can be a force for raising awareness of this troubling issue at social and governmental levels.
Homelessness
Working with Los Angeles based groups that offer paths to self-sufficiency, empowering people to rebuild their lives, breaking the cycle of homelessness, and addressing the physical and emotional needs of their clients.
For any further information please contact:
Dr. Catharine Christof
Professor, Loyola Marymount University
Los Angeles, California
Catharine.Christof@lmu.edu
(310) 619-9855
catharine@iahv.org
"I have this crazy idea – a world without violence."
– Sri Sri Ravi Shankar