Uttarakhand Flood Relief
The Disaster:
On June 16th, 2013, torrential rains in the northern state of Uttarakhand triggered massive flooding and landslides, wiping out buildings, roads and entire towns. The destruction of roads and bridges made rescue operations extremely difficult, and thousands died of starvation and extreme weather conditions in the days that followed the rains.
IAHV Intervention:
IAHV in partnership with the Art of Living established a disaster relief fund to provide humanitarian assistance for the victims of the flood. A team of 300 volunteers and doctors were on the ground within hours providing emergency relief in coordination with military forces and the Government of Uttarakhand.
Our Initial Response Included:
Teams distributed relief materials, provided medical aid and food, assisted in rescue operations and cleared debris.
110 truckloads of relief material were supplied to areas that had not had access to food for several days.
Volunteers trekked to the remotest villages, including Chandrapuri, Sili, Agastyamuni, Ukhimath, Kund and Arkhund.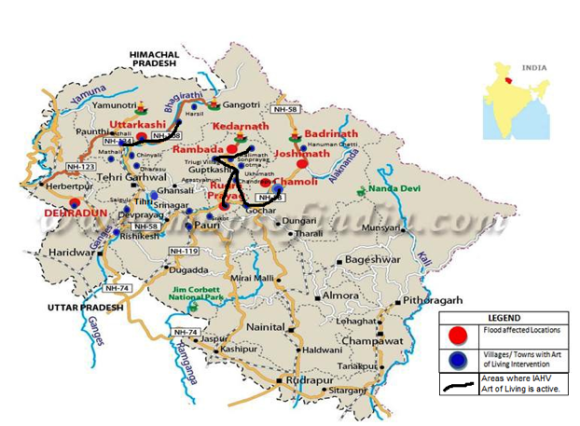 A year later volunteers continue to work towards rehabilitation for the villages and victims of the flood.
Ongoing Activities Include:
Constructing bridges and solar geysers
Repairing damaged homes and schools
Conducting various skills training workshops (Organic Farming, Youth Leadership, Trauma Relief, Vocational Training, Computer Training) to empower villages to become self reliant
So far IAHV has:
Distributed relief material worth $170,000
Spent approximately $40,000 towards trauma relief and other workshops
Spent another $50,000 setting up ongoing projects.
IMMEDIATE RESPONSE
The following are some of the relief activities undertaken immediately after the disaster
1. Medical Camps
Provided free medical treatment and distributed medications. Initially treated 4,000 evacuated tourists and 1,500 residents in main camps. Set up mobile camps in remote locations where roads had been damaged including Silli, Chandrapuri, Agastyamuni, Kharabi, Saigul (Tehri), Chinyali, Hanumanchetti, Ranachetti, Srikot, Kund and Arkhund Kotma, Sonprayag Triugi Village, Athali, Tilwara and Mathali.
2. Emergency Response Task Force Training (ERFT)
Trained a dedicated task force of volunteers from around the country to quickly respond during times of disaster (floods, cyclones, earthquakes). Members of the team are trained in first aid, performing CPR, building bridges and executing rescue evacuations.
 3. Temporary Shelters in Uttarakashi
Provided waterproof materials made to withstand harsh weather conditions for the construction of temporary shelters. Materials were distributed to more than 1000 families living between Uttarkashi and Gangotri.
 4. Construction of Bridges
Youth Leadership Training participants from Triyugi Narayan re-constructed broken bridges in Toshi and Villirail.
ON-GOING ACTIVITIES
1. Support for the Primary School,  Rudra Prayag
The primary school in the Phata village has been re-constructed. IAHV will continue to support the school's expenses including tuition, fees, and books for the next two years.
2. Re-construction of homes in the Toshi village, Triyuginarayana
Volunteers working with local residents have repaired and re-constructed homes in the Toshi village.
3. Building cow sheds, Triyuginarayana
Volunteers visited Triyuginarayana and identified farmers who were in need of cowsheds. To date 233 sheets of tin siding have been distributed to aid with cowshed construction.
4. Installation of Solar Geysers/Lights in health centers Chamoli
Solar geysers have been installed at 10 locations and solar lights installed at 21 locations in Chamoli in order to facilitate medical services for the community.
SKILLS TRAINING
1. Cooking and Driving Workshops, Hapur
Conducted cooking and driving workshops in Hapur, UP. Eight of the graduates are working as full time youth leaders in their communities and four now have full time jobs using the vocational skills they learned.
2. Organic Farming Workshops, Phata, Triyuginarayana, Tulanga and Rampur
One hundred and fifty farmers have been trained in organic apple, apricot and almond farming and techniques for ZERO budget farming that increase crop yields and reduces farm costs. Plans are also underway to set up an association with NABARD, which will simplify registration for organic farming and open up avenues for farmers to recieve government subsidies.
 3. Self-Reliance Workshops
Conducting ongoing workshops to help victims overcome the trauma from the disaster and regain their confidence for rebuilding their lives and their communities. Approximately 12,000 participants have benefited to date, and 138 youth leaders have been trained.
 4. Computer Training
A Computer Education Center is being set up to teach basic computer skills to students from 10 villages. The course will include Microsoft Word, Excel, Power Point and Internet browsing.