Stress & trauma relief workshop revitalizes people from deep within
November 20, 2013
IAHV's Breath Water Sound (BWS) programme seeks to address the challenges of economically and emotionally distressed communities by empowering them. The first step towards empowerment is stress-elimination and inner confidence. Breath Water Sound workshops teach simple breathing, sound relaxation, and meditation techniques to relax the individual.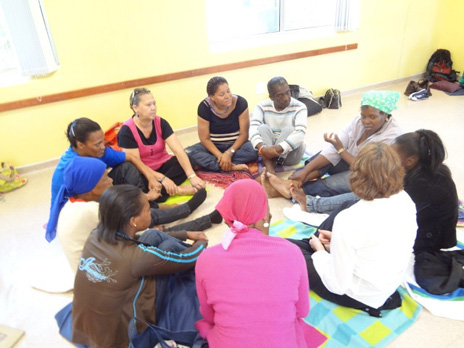 Breath Water Sound Workshop has been successful in:
Eliminating Stress
Reducing alcoholism and drug abuse and abusive behaviour patterns
Increasing, energy overall health and mental well-being
Reaffirming basic human values
Inspiring greater responsibility and a feeling of belongingness
Building communities and the community spirit
Waves of Breaths in Mitchell's Plain
Dr Parusha Pillay, an IAHV volunteer and Art of Living teacher in Cape Town, shares her experience of teaching this workshop.
"We have been running Breath Water Sound Workshops at the Mitchell's Plain Community Health Center in Cape Town since December 2011. To date 236 patients and community members have directly benefited from the course.
The first course was held on 01 December 2011 as part of the hospital's World AIDS Day Program. 104 patients and community members participated in the 4 day programme and the outcomes were incredible. Facilitators and the volunteers were in awe, observing the dramatic transformations taking place.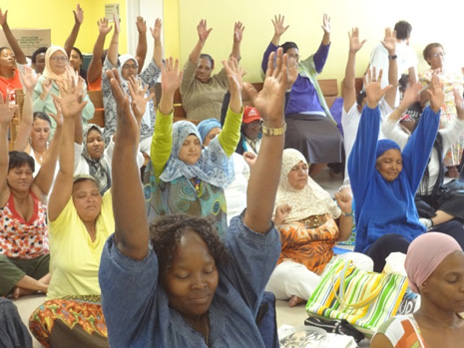 The majority of the patients on the course were depressed and some suicidal. At the end of the first and second days, there was a 180 degree turn around. The Hospital Manager observed these changes and the astonished look on her face seeing the transformation in 104 participants was priceless. She has asked IAHV and The Art of Living Foundation to continue running these courses on the hospital premises together with follow-up sessions. She shares,"This needs to spread to every other area and hospital facility. Her hospital will be the prototype, after which the rest will follow." 
The participants shared after their courses: (names have been removed to protect the privacy of the individuals)
Before : "I was very stressed and I was always sad and feel shame for myself and I was so cross with my husband who gave me HIV"
After : "I feel free and even in the body I feel so light. I sleep well and I can speak nice. I leave everything behind now and I am happy now."
Before : "I was very emotional. I cried almost every day. In my early marriage my husband abused me. He cheated on me. It took me a while to overcome it. After a few years he did the same and it brought the pain back."
After : "After the course I feel so good and I was very happy. I could look up again and put everything behind my back and be myself again. I feel to live again"
Before : "I was stressed and unhappy and angry. I wasn't sure how to deal with my negative emotions so I kept it inside. I was not dealing with my feelings and I was becoming depressed and I was having headaches and my blood pressure was high."
After : "I feel relaxed and calm and I feel I can deal with my negative emotions. I don't feel so angry. I know I can get through my stress by using the meditations. I feel more happy and I am letting go of my negativity."
Before : "I was very stressed, I snap at my kids, my husband a lot."
After : "Now I'm very peaceful, I can relax my mind, now I feel almost stress free. It's so powerful to have a peaceful and sound mind now."
Letter of appreciation from hospital manager: Zethu Xapile
Re: Breath Water and Sound Course
Dear Sir/Madam
This serves to confirm that the Breath Water and Sound Course was run at the Mitchell's Plain CHC from the 1st – 4th December 2011. 104 people attended the course.
Mitchell's Plain is situated about 30km outside Cape Town. It is an area that has about 40% unemployment rate, riddle with gangsters and substance abuse. The community members are trying hard to fight the use of alcohol and other substances. Some of our clients at the facility are somehow angry about all the difficult circumstances they live under because of this. It is with great pleasure to inform you that the course came at the right time and was of enormous benefit to both the facility and the community at large.
I would like to thank the organization for making it possible for us to benefit from this course. From what the participants say it looks like for some of them life will never be the same after this course. It gave hope to those that were lost in hopelessness, lost in despair, joy to those who were surrounded by misery, peace to those whose life was in turmoil.
I would be delighted if the staff of Mitchell's Plain CHC would also have a chance to experience. It was indeed an experience of a life time for our clients.
Thank you for making this possible.
Thank you,
Yours truly,
Zethu Xapile
Facility Manager
Mitchell's Plain CHC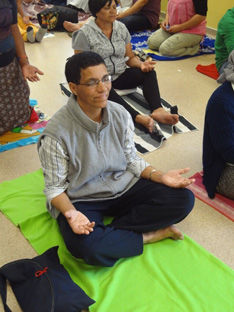 These techniques teach people how to handle negative emotions such as anger, regret and depression. By dealing with these emotions, there is a sense of peace and relaxation. What follows is mental clarity, confidence and focus to find solutions for challenges faced in the rural areas – be it substance abuse, infrastructural problems or lack of basic amenities.
When empowerment starts with individual transformation, it is sustainable. For communities are made up of individuals and empowered people naturally lead their communities towards progress.
A major component of the workshop is to foster community development and service. The values of responsibility for oneself and the needs of others, teamwork, sharing and service are kindled through a number of processes. This ensures that a strong community spirit and ownership of society is built, with cultural appreciation encouraged. On closure of the course, participants choose to contribute to a group community project with the aim of uplifting and empowering the community in which they live.